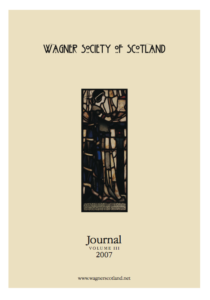 The Wagner Society of Scotland has published four volumes of our scholarly Journal [ISSN 1741-4105] since 2003. Richly illustrated, featuring many colour photographs, and mostly comprised of entirely original material, the Journal has been produced and printed to an exceptionally high standard. In 2013, a shorter Bulletin was published. Summary contents of each publication can be found below.
A limited number of copies of Journals (except Vol 1) and of the Bulletin remain! If you wish to order copies @ £2 each including UK postage, please contact the Secretary:
John Anderton
email: john.anderton4@btinternet.com
2 Glenlockhart Road

Edinburgh
EH10 5RG
Please enquire for overseas rates.
Bulletin 2013
Is Wagner Bad for Us? Nicolas Spice (reprinted from London Review of Books 11 April 2013)
Reprints of paintings: Vladimír Kiseljov
…..
Volume IV 2009
Richard Wagner's Creative Grail Quest: Derek Watson
Tonality in Die Meistersinger: Ian Beresford Gleaves
A Miniature Miscellany of Thoughts on Wagner: Donald Frances Tovey
Some recent Wagner Studies in English: a selective review
….
Volume III 2007
Hans von Bülow in Scotland: Derek Watson  (including, reprinted in facsimile,  von Bülow's arrangements of Three Scottish Folksongs.)
Wagner and Dargomïzhshky: Nicolai Rimsky-Korsakov, translated by Stuart Campbell
Anton Bruckner in Bayreuth in 1882: Friedrich Klose, based on translation by Geoffrey Skelton
…..
Volume II 2005
Parsifal in Zurich: Professor Chris Walton
Wagner and Brass: Professor John Wallace
Wagner in Brazil: Derek Watson.
Photographs of Bayreuth: taken by Donna Nicholson-Arnott, Wagner Society of Scotland's first Bayreuth Scholar
….
Volume I 2003
Wagner in Scotland: Derek Watson
Wagner on the pages of the Glasgow Herald in the 1870s: Dr Stuart Campbell
The Ring in Scotland 1910-13: Richard Telfer